Services

WiFi
Complimentary Wi-Fi is provided by SupraNet Communications and is sponsored by Nordic Consulting. If you are having trouble with your wireless internet connection at the airport, please call SupraNet directly at (608) 237-6152 or email support@supranet.net for assistance.
Wireless Internet service is available throughout the airport for wireless-enabled laptop computers or mobile devices.
The official WiFi connection at the airport is labeled: "msnairport". A sign-in page will appear before you can connect to the internet service. The sign-in policy can be found below.
The Dane County Airport wireless service will work with any operating system, as long as there is a compatible, Internet-ready browser such as Google Chrome, Internet Explorer, Microsoft Edge, Safari, or Firefox. You will need a laptop or handheld device with Wi-Fi 802.11b or b/g wireless capability.
SupraNet Wi-Fi Policy
This Policy specifies the actions prohibited and recommendations suggested by SupraNet to users of the SupraNet Network. All Clients demonstrate their acceptance to this Policy by using the SupraNet Network. If client is found in violation of SupraNet's Acceptable Use Policy SupraNet reserves the right to terminate Client's connection and/or services at anytime at SupraNet's sole discretion. SupraNet reserves the right to modify the Policy at any time

The SupraNet network may be used only for lawful purposes. Transmission, distribution or storage of any material in violation of any applicable law or regulation is prohibited. This includes, without limitation, material protected by copyright, trademark, trade secret or other intellectual property right used without proper authorization, material that is obscene, defamatory, constitutes an illegal threat, violates export control laws or any material that SupraNet deems inappropriate.

Violations of system or network security are prohibited, and may result in criminal and civil liability. SupraNet will investigate incidents involving such violations and may involve and will cooperate with law enforcement if a criminal violation is suspected. Examples of system or network security violations include, without limitation, the following:
Unauthorized access to or use of data, systems or networks, including any attempt to probe, scan or test the vulnerability of a system or network or to breach security or authentication measures without express authorization of the owner of the system or network.

Unauthorized monitoring and/or collecting of data or traffic on any network or system without express authorization of the owner of the network or system.

Interference with service to any user, host or network including, without limitation, mailbombing, attempts to overload a system or network with traffic, and deliberate transmission of malicious code.

Forging of IP packet headers, DNS names, e-mail addresses, or any attempt to forge identity including newsgroup and bulletin board postings.
Business Center Information (Gate 8)
Business travelers appreciate the services that help them stay productive at the airport. Wi-Fi wireless internet capability, comfortable seating, individual work stations and conference rooms are available.
Dane County Regional Airport Administration
Business Service Fees
Black and White Copy Charges:
One Side
25 cents
Two Sides
40 cents
Color Copy Charges:
Size
Side
Two Sides
8.5 x 11
30 cents
60 cents
8.5 x 14
50 cents
$1.00
11 x 17
60 cents
$1.20
Fax Charges:
To receive local
25 cents / page
To send local
50 cents / page
To receive long distance
25 cents / page
To send long distance
75 cents / page
The above services are available between the hours of 8:00 a.m. and 4:00 p.m.
Massage Services
Touch and Go massage is the premiere destination for business and leisure travelers. While waiting for flights, travelers can shed stress and fatigue by treating themselves to a relaxing chair or foot massage treatment. Touch and Go massage features on-demand services from 5 to 30 minutes and is sure to relax and recharge today's weary travelers. Massage services are provided by trained, licensed professionals.
Touch and Go massage is located on the second level concourse, across from gate six.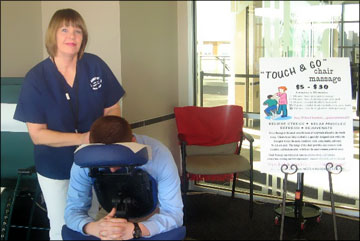 Family Lounges
Family and Mothers' Lounges are available at the airport.
Mothers' Lounges
Three private Mothers' Lounges for breast-feeding mothers, each complete with a comfortable leather chair, table, electrical outlet, sink and baby-changing table, are available in the following locations:
In the concourse (past security) across from Gate 8 off of the women's restroom labeled Room 2082.
In the concourse (past security) between gates 5 and 6 off of the women's restroom labeled Room 2024.
On the first floor, in the suite labeled "Family Lounge" across from the United Express ticket counter.
Family Lounge
A family lounge, with a comfortable area to relax, a mothers' lounge, and family restrooms, are located on the first floor of the terminal, across from airline ticketing counters.
"As a nursing mom who was traveling on business, I flew out of your airport this past week and was amazed to see a Mother's Lounge on the 2nd floor. What a pleasant surprise!"
-- Business traveler
Sacramento, CA