Flight Pick-Up Waiting Area
Federal regulations do not allow vehicles to wait for long periods at the terminal curbs, so wait for arrivals in our FREE Cell Phone Lot instead. From there, you can easily access the terminals for swift pickups.

The convenient waiting area is located just moments from the airport terminal on the entrance drive - watch for the signs. Note: unattended vehicles will be towed.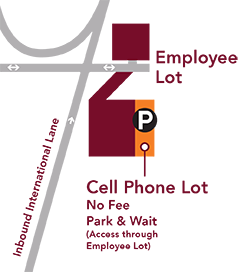 Click to enlarge image