Virtual Tour
Approaching the Airport
The roadway approach to the airport is simple and streamlined. International Lane is four lanes divided by traffic separation islands which are landscaped in natural prairie perennial plants and grasses, in keeping with the Prairie Style architecture of the terminal. An electronic sign welcomes you and advises of any new parking information.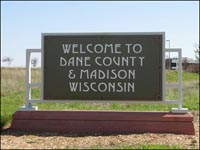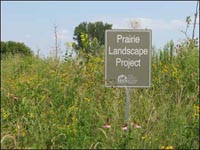 Easy Dropoffs & Pickups
Airports are often confusing places to enter and exit for automobile drivers, but at DCRA, getting in and out is greatly simplified. There is one way into the airport and one way out. As you drive into the complex, the turnoffs to hourly, daily and surface parking come up on the left. The roadway in front of the terminal is divided into six lanes, four lanes for dropping off and picking up passengers, and two lanes for commercial service vehicles. This results in far less congestion and better curb access for those picking up or dropping off travelers in front of the terminal. A separate holding bay for taxicabs, a rental car area and the exit for pass-through traffic are situated at the north end of the parking area.
Aviation Past Meets Present
"Easy to Fly! Remarkable Performance! Graceful Appearance!" So reads the promotional brochure for the Corben, a sport aircraft built in Madison in the 1930s. One of the most dramatic places in the airport terminal is in the lobby where a full-size Corben Super Ace plane is suspended from the ceiling. The plane was built by volunteers of the Madison chapter of the Experimental Aircraft Association, using original 1930s plans. The Super Ace is true in every detail, down to the specified black, yellow and silver color scheme. (The standard Model A engine, which wouldn't be visible anyway, is left out for weight reasons.) The plane is one of just two Super Aces in the nation.
A Tour of the Terminal
Window walls bathe the new Prairie Style terminal in natural light, washing over the abundant cherrywood trim, brushed aluminum accents, granite wainscoting, floor mosaics and arts and crafts stained glass in a combination of geometric shapes.
A palette of muted gold, green, brown and ochre red wraps the traveler in comfortable surroundings, lending beauty to efficient design that promises to get a trip started off right. Or is that Wright? Famed Wisconsin architect Frank Lloyd Wright would find a lot to like here.
The Wisconsin theme is carried throughout, from the Badger and Packer gear, Wisconsin cheese and coffee-table books in the Wisconsin Marketplace to the Great Dane restaurant and Ancora Coffee.
Function and beauty go hand in hand at the newly expanded and re-designed airport terminal. The $68 million project, completed in three phases over five years (2001 – 2006), doubles the size of the terminal to 278,000 square feet, including: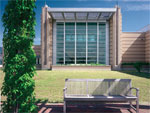 The exterior features native prairie plantings and an arbor seating area.
---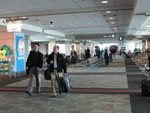 An expansive ticket lobby with 21 agent positions, enlarged baggage claim area, and 13 new passenger loading gates (up from nine), 11 with bridges.
---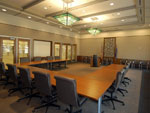 An executive conference room equipped with kitchen and audio-visual equipment, two new training / conference rooms and work-stations for business travelers.
---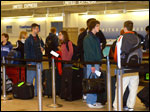 State of the art security including behind the scenes baggage screening and new security checkpoints
---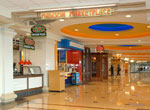 Restaurants, retail stores and rental car outlets.
---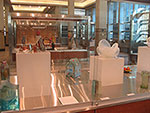 Art Court displays art that reflects the local culture. The current art exhibit is titled, A Touch of Glass: Selections from the Racine Art Museum's Collection. This stunning exhibition covers six areas: The Versatility of Blown Glass; Flowers and Fruit as Subject; The Human Figure: An Age-Old Subject in A New Medium; Color and Abstraction: The Seattle Influence; The Human Figure: An Age-Old Subject in A New Medium; Large Scale and Unusual Forms in Glass; and Wisconsin and the History of the Studio Glass Movement.
---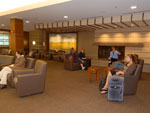 A new "Meeters & Greeters" lounge provides soft leather seating in a comfortable atmosphere, highlighted by a fireplace and a historic, restored 1936 mural of the airport landscape. Restoration of this mural was made possible by funds donated by Madison Gas and Electric Foundation, Michael Best & Friedrich LLP, and Vandewalle & Associates. History of the mural.
---
Business travelers appreciate the services that help them stay productive at the airport. Wi-Fi wireless internet capability, comfortable seating, individual work stations and conference rooms are available. Automated teller machines are located in both the public side and passenger side of the airport.
Leisure travelers, especially those with children, appreciate the family and mother's lounges, variety of restaurants, and clean, safe and secure atmosphere. A convention and tourist information booth and a postal center are located near baggage claim.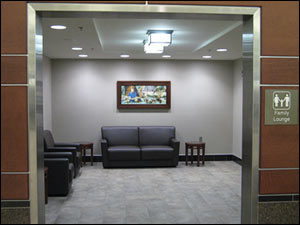 All airport facilities are ADA-accessible. Wide corridors, open spaces, elevators and fully accessible restrooms ease movement for persons with disabilities. TTY phones for the deaf and hard of hearing are also available.
Ground transportation is easy with rental cars available just outside the terminal, hotel courtesy phones and shuttle service to many hotels.
Green Building
The project incorporates 25 green building strategies including water efficient landscaping, recycled carpet, acoustic ceiling tiles manufactured from recycled soda bottles, non-toxic wood preservative treatment, chlorine free vinyl wallcovering, and on-site construction waste recycling. Recycled materials were used throughout the building and construction debris was separated and sorted, with 98 percent collected for recycling – 40,000 tons. Even some of the aqua blue wall sconces are made from recycled soft drink bottles.
A building automation system that dims lights and modifies heating and cooling to unused areas of the terminal, results in significant energy savings.
The project design team consisted of Architectural Alliance of Minneapolis, and Mead & Hunt and Arnold & O'Sheridan, both of Madison. The general contractors were Bauer & Raether Builders, Tri-North/GPD-Gilbane, and Oscar J. Boldt Construction. Bauer & Raether Builders and Tri-North Builders are based in Madison, GPD-Gilbane in Milwaukee, and Boldt in Appleton.