Business Park
Working in a Balanced Environment
Look around Truax Air Park. Notice the inviting open green space, wooded sites, and attractive architectural style. The Park is the realization of a carefully drawn site plan aimed at balancing the needs of business with natural beauty of the area. And, the Bridges Golf Course is right next door!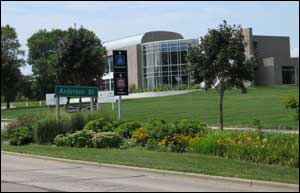 Protective covenants govern Truax Air Park development; providing architectural review and guidance during project planning and construction. These covenants outline specific standards for architectural control, parking, and landscaping that assure only high quality development throughout the Park.
While Truax Air Park West has already attracted many major tenants, several attractive sites remain. Each site is designed to make the best use of existing space and natural terrain. Prime professional office development is planned for some lots. Other lots offer maximum flexibility, parcels that are unplatted and available for a variety of uses including prime professional office, light manufacturing, warehousing, and commercial.
Light Manufacturing / Warehouse Sites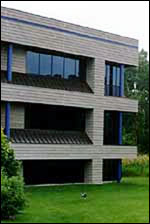 Truax Air Park West's excellent access to transportation makes it ideal for warehousing and light manufacturing. Parcels are adjacent to Dane County Regional Airport and close to major highways (I-90/94, US Hwy. 51, and 151). Several air and ground freight transportation terminals are inside the Park...or only a few minutes away.
The park is already home to "high-tech" research and manufacturing companies. Growth and development of these types of companies is sustained by the area's dynamic business climate as well as its proximity to the University of Wisconsin.
Parcels designated for light manufacturing and warehousing are placed on the Park periphery. Sites range in size from 5 to 7 acres - offering excellent opportunities for present needs and future expansion.
Airport-Related Sites
Location and traffic flow make Truax Air Park West a perfect site for airport-related commercial service businesses. The traffic sufficient for successful hotels and restaurants, gift and retail shops, as well as travel and related businesses flows past parcels designated for commercial development.
The Park has a total of 12 acres available for airport-related service development. These two parcels are strategically located at the entrance to Truax Air Park West and the Dane County Regional Airport.
Prime Professional Office Sites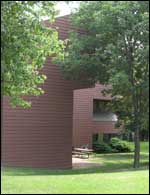 Truax Air Park West is home for some of Madison area's finest class A office space. Prime location, attractive parcels, strict architectural review standards, and available municipal services offer everything necessary for developing successful office projects.
Seven fully improved lots, ranging in size from 70,000 to 174,000 square feet, are currently available. Some remaining sites are in secluded, woodland settings. In addition, the Park has six parcels, up to seven acres in size, that may be developed in a variety of ways. These provide excellent opportunities for present use and future expansion.
Business Park Parcels
| | | | |
| --- | --- | --- | --- |
| Lot/Parcel | Square Footage | Intended Land Use and Zoning | Allowable Building Height |
| Lot 3 | 216,637 | Prof. Office | 24 feet |
| Lot 4 | 167,639 | Prof. Office | 24 feet |
| Lot 5 | 107,055 | Prof. Office | 24 feet |
| Lot 6 | 166,716 | Prof. Office | 24 feet |
| Lot 7 | 174,240 | Prof. Office | 72 feet |
| Parcel 1 | 304,920 | Prof. Office Lt. Mfg/Whrsg | 48 feet |
| Parcel 2 | 261,360 | Airport-related Commercial Prof Office | 80 feet |
| Parcel 3 | 261,360 | Airport-related Commercial Prof Office | 87 feet |
For More Information
Explore the possibilities for business development at Truax Air Park West. Call an airport representative at (608) 246-3391. Or, for information on locating your office or business in the Truax Air Park, contact one of these property managers:
Susan Springman, Executive Management, Inc., (608) 442-5067
Roger Seip, American Lane Property, LLC, (608) 268-2600 x 113
Marty Rifken, The Rifken Group, (608) 575-9562
Angela Owens, TASC, (608) 241-1900 x 4204
William Nebel, Crown Commercial Real Estate and Development, LLC, (608) 831-2618
Mac McAllen, McAllen Properties, LLC, (608) 695-0417
Karen Veloso, Wisconsin Management Co., Inc. (608) 258-2080 x 259
Carl Ruedebusch, Air Park Center, LLC, (608) 249-2012